Do you have local hand delivery options?
Yes. We can either ship your order or if it falls within a 20 mile radius of the store we can hand-deliver it. Hand-delivery is charged by location not by the size of the order. Most deliveries placed before 11:00 AM can be delivered that same day unless there is a request for another delivery date, if it is a fresh fruit product, or if product is out-of-stock. Please be sure to have a phone number available for the delivery location. We will confirm that someone is available to accept the order before attempting the delivery. Delivery charges cover up to 2 delivery attempts. After the second attempt a card will be left at the location. The recipient will then have to stop at the candy store to pick-up the item. Hand-delivery is only available on purchases in-store or over the phone. Delivery charges are as follows:
Zip Code
City
Price for Delivery

13244, 13203, 13202, 13204,

Liverpool & Syracuse

$8.00

13208, 13206, 13210, 13211,

13224, 13219, 13207, 13214,

13205, 13088, 13290

13209

Syracuse

$8.50

13057, 13116

East Syracuse, Minoa

$9.00

13212, 13090

Liverpool & Syracuse

$9.50

13031, 13215, 13120, 13164,

Camillus, Cicero, Fayetteville,

$10.00

13066, 13039. 13220

Nedrow, Syracuse, Warners

13041, 13078, 13082, 13108

Clay, Jamesville, Kirkville,

$11.00

Marcellus

13029

Brewerton

$11.50

13110

Marietta

$12.00

13112, 13060

Elbridge, Memphis

$13.00

13084, 13030

Bridgeport, LaFayette

$13.50

13132, 13104

Manlius, Pennellville

$14.00

13027, 13037, 13080

Baldwinsville, Chittenango, Jordan

$14.50

13135

Phoenix

$15.00

13152

Skaneateles

$15.50

13063, 13138

Fabius, Pompey

$16.00

13036, 13035, 13159, 13167, 13103, 13020, 13044

Cazenovia, Central Square, Constantia, Fabius, Mallory, Tully, West Monroe

$17.00

13032, 13028, 13153, 13076

Bernhards Bay, Canastota, Hastings, Skaneateles

$17.50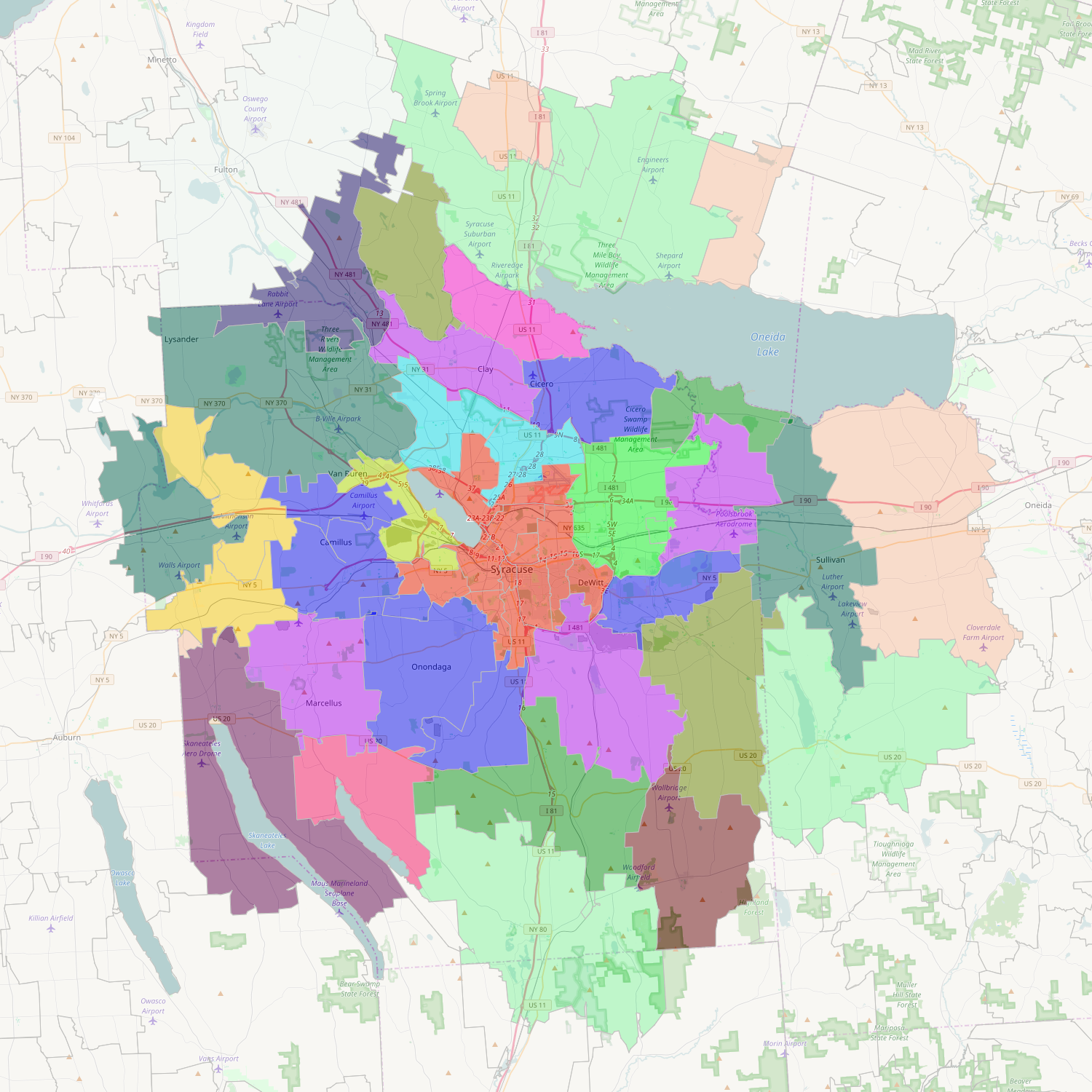 How much time do you need for a local delivery?
Typically if the product is in stock we can hand-deliver items within a 20 mile radius of the store the same day as ordered when the order is placed before 10:00 AM. Orders placed after 10:00 AM would be delivered the following day. If the request is custom or a special order we request 2-5 days to make sure that we can receive all our materials for your delivery. Around the bigger holidays (Christmas, Valentine's Day, Easter, Mother's Day) the earlier the better. In fact many Holiday orders are placed weeks or even months in advance.
What is the quality of your Fresh Fruit Products?
We make all our fresh fruit products to order the same day for pick-up or delivery which is why we request at least 24 hours lead time. Every morning we go to the local regional market and pick-up all our fruit. Please keep in mind that the fruit quality all depends on the season and time of year. We have no control over what melons or fruits our distributors receive, but we pick out the nicest and freshest products daily. The fruit for the bouquets must be firm enough to stay on skewers and sometimes that quality is most important.
Can I place an order on-line and pick-up in-store?
Yes you can! Pick out the products you want on-line and add them to your shopping cart. When you arrive at the Shipping/Tax page fill out all the information as if the order was to be shipped to your home. Even though a shipping charge is added to the shopping cart, we will remove that charge for pick-up orders. When entering your Details you may select 1) Call you for your payment info, 2) Call us with your payment info, 3) Pick up and pay, or 4) Send a check. Please keep in mind that some of our products are made to order so the more time the better to get your order together. We will confirm with you by phone or email that we received your order and when your order will be available.
Do you accept donation requests?
Donation requests must be submitted in writing. Requests can be delivered by hand, emailed, faxed, or mailed. (Please be advised we receive many requests for donations and make decisions months in advance. Please be sure to provide us with as much information and as early as possible to allow us to consider your charity or event.) All requests may be emailed to donations@speachfamilycandy.com.
Do you have tours for troops, after-school activities or family functions?
We, unfortunately, do not allow tours of our facility. Our candy kitchen is simply not large enough to provide adequate space for tours. Buses or groups may visit the store and make purchases. Please call ahead for scheduling or email us at appointments@speachfamilycandy.com.
I work almost the same hours you are open. Is there a way to make an appointment to speak with someone about a wedding, event, or large order?
Yes. We understand that our hours are sometimes conflicting with those of our customers. If you need to speak to someone in person or have special requests for us to be open other than our normal hours of operation you may schedule an appointment. Please try to give us as much time as possible to schedule an appointment for you. appointments@speachfamilycandy.com
Do you carry Sugar-Free products?
Unfortunately due to the difficult nature of working with sugar-free products we do not manufacture any sugar-free chocolates. We do carry a few sugar-free options from other distributors (ie. Jelly Belly & Albanese).
Do you have wholesale pricing for other businesses interested in selling your products?
Yes. We are very proud of our name and reputation. Several retail stores have already begun to carry our products. If you'd like more information about becoming a wholesale customer please email us. More information is also available on our Wholesale/Resale/Fund-Raising page!
Is your location at 2400 Lodi Street open to the public?
Yes. Our retail store and candy kitchen are located on the corner of Court Street and Lodi Street. It is open to the public.
Do you make any of the candy?
We manufacture all of our own chocolates and fudge on site. It allows for the freshest product and gives us more opportunities to serve our customers.
What is the shelf-life of your products?
Shelf-life of our products varies by the different items and the condition the product is kept in. We keep our store cool (between 55° and 70°F) throughout the year. Most chocolates should be kept out of direct sunlight and in an area with less humidity. Refrigerators are not a good place to store chocolate.
In perfect conditions:
Our truffles last a maximum of 2-3 months.
Chocolate covered items, like potato chips and pretzels last a maximum of 2-4 months.
Our assorted miniatures and solid chocolates last approximately 6 months, but are still consumable after that time. (After 6 months chocolate begins to bloom. This happens when oils in the chocolate begin to separate. Bloomed chocolate is fine to consume, but you may notice that it melts to the touch and the items may look slightly cloudy.)
Fresh fruit products, like strawberries and raspberries, should be consumed within 24-hours of purchase. These items start to get juicy and ferment very quickly. All fresh fruit products are dipped the morning of pick-up or delivery to provide the maximum freshness.
Why are some of your products seasonal?
Some of our products are very temperamental. Sponge Candy for instance needs perfect conditions to make a good batch. These conditions are best in the winter with dry, cold air. In the spring, summer and fall it's impossible to get these conditions so we only manufacture several of our products when the conditions are at a premium.
Some of your products have the word (Vintage) listed with them. What does that mean?
After being in business for so many years we have acquired a number of antique and hard-to-find molds. Many of them are very fragile or may only be single cavity molds which take much more time to produce. These are listed on our website so the customer knows that these items will take longer in production. Quantities over 10 pieces may take up to two weeks to process. For specific timing or requirements please contact us.
Is there free parking at your retail store?
Yes. We have off-the-street parking at our location on Lodi and Court Street.
What is your policy on shipping products long distances or during the warmer months?
Since our products are mostly chocolates and sugar-based consumables we try to go with the fastest shipping possible. The customer has the choice to use UPS or the Post Office for shipping. Typically we only ship at the beginning of the week (Mon-Wed). This allows for our products to ship out and not sit in any warehouse over the weekend. Customers may request to have their order shipped in the later part of the week. We also suggest that the customer order ice packs if they are shipping to locations south of Virginia or west of Ohio. During the warmer months (April-October) we automatically put ice packs in all shipment containers. Ice packs will help maintain the internal temperature of the boxes we ship but should not be thought of as a guarantee that the product will not melt while in transit.
Speach Family Candy Shoppe, Inc. is an F.O.B. (Free On Board) company; therefore once your order is picked up at our facility by an outside carrier (ie. FedEx, UPS or USPS) the products become the responsibility of the customer. Orders containing perishable products (products that require refrigeration or cool storage) will be shipped via dry carrier and are shipped at your risk. Speach Family Candy Shoppe, Inc. will not be responsible for any damages due to temperature, humidity, weather or treatment of the shipping container. Scheduled delivery dates by an outside carrier to your location are not guaranteed and are estimated times of arrival only.
I'm having a difficult time with payments on your website. Why won't my credit card payment go through?
If you ever have problems with the website please feel free to contact us by phone or E-mail and we can assist you during our business hours. If you're using a credit card and your statement goes to a PO Box you must put the Box number in as your House Number and "PO Box" in as the Street. Several customers have reported this issue with credit card verification.
Do you do candy for weddings or chocolate covered strawberries?
We have a large selection of candy we can make for weddings as either gifts or favors. We have done chocolate covered strawberries for weddings. Typically we dip them the morning of the event and someone would pick up the order and the caterers would put them out with the cake or present them however you choose. Any fresh fruit items should be ordered at least 24 hours in advance. We also can order and do set-up for candy buffet tables and have scoops and jars available for rental.
Have any other questions? Just email us! info@speachfamilycandy.com